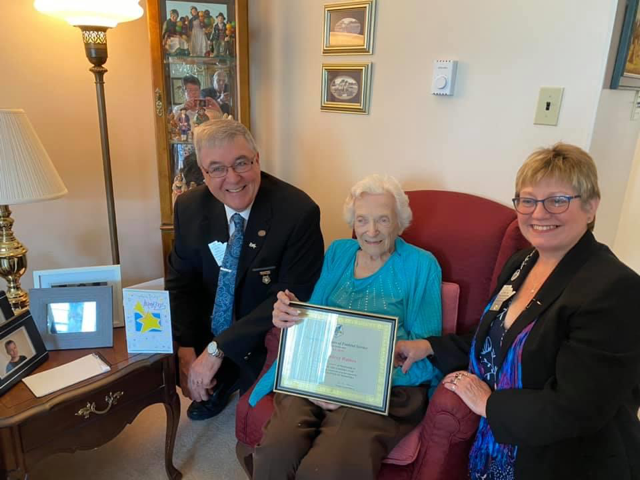 Sister Audrey Raines* accepting an award for 80 years of service in the OES.
We are blessed to have many members who have been with us for many years. Below is a list of those members who have distinguished themselves with more than 50 years of service in the Order of the Eastern Star.
Living Manitoba members who have 50 or more years of service.
MEMBER
CHAPTER
DATE ACHIEVED
80 YEAR MEMBERS
Audrey Raines *
Queen Winnipeg #1
Apri 2020
75 YEAR MEMBERS
Marie Fulcher
Queen Mary #3
December 2021
Isabel Curwain PGM
Queen Winnipeg #1
May 2023
70 YEAR MEMBERS
Joyce Sutherland
Queen Winnipeg #1
May 2019
Doris Meadows
Ruth #15
May 2020
Ethel McPhail PGM
Patricia #8
July 2020
Audrah Caughell
Ruth #15
October 2020
Jean Lewis
Queen Winnipeg #1
May 2022
Roberta Scrace-Sykes
Ruth #15
June 2022
Mona Bilton
Friendship #67
January 2023
Doreen Marshall
Patricia #8
March 2023
Barbara McGregor PGM
Friendship #67
May 2023
60 YEAR MEMBERS
Josephine "Jo" Brown
Queen Winnipeg #1
September 2013
Dorothy Barker
Friendship #67
November 2013
Josephine "Jo" Rae
Patricia #8
December 2013
Laura Cliffe
Queen Mary #3
May 2014
Arleigh Kumitch
Ruth #15
December 2014
Ruth McKinlay
Patricia #8
January 2015
Doreen Bagrie
Electa #2
February 2015
Helen Farrell
Queen Winnipeg #1
May 2015
Edith Graham
Ruth #15
March 2017
Doreen Cobbe
Electa #2
April 2017
Beverley Papageorgiou
Electa #2
June 2017
Mary Gamey
Ruth #15
June 2017
Anne Crossin
Electa #2
October 2017
Alwyn Ammeter
Queen Winnipeg #1
February 2018
Velma Graham
Ruth #15
March 2018
Leona Christiansen
Queen Winnipeg #1
April 2018
Iris Martin
Opasquai #24
June 2018
Alixe Ryles
Queen Mary #3
June 2018
Marian Bulloch PGM
Queen Mary #3
September 2018
Anne "Anna" Burch
Friendship #67
November 2018
Vasti Lamb
Opasquai #24
November 2018
Claire Christiansen
Queen Winnipeg #1
April 2019
Melba Allen
Queen Winnipeg #1
May 2019
Donalda "Donnie" Dunn
Ruth #15
June 2019
Carol Anderson
Queen Winnipeg #1
July 2019
Pat McManes
Queen Mary #3
October 2019
Ruth McKay
Queen Mary #3
November 2019
Ellen McFarlane
Opasquai #24
June 2020
Freida Tolton
Queen Mary #3
November 2020
Lois O'Brien
Friendship #67
October 2021
Gladys Davidson
Ruth #15
November 2021
Gladys Gillespie
Queen Mary #3
March 2022
Valeria Cowie PGM
Friendship #67
March 2022
Wanda Hyde
Queen Mary #3
April 2022
Gail Hrehirchuk
Ruth #15
April 2022
Charlene McDonald
Opasquai #24
April 2022
Marilyn Funk
Friendship #67
June 2022
Georgina Hodgson PGM
Friendship #67
October 2022
Ruth McCorrie
Queen Winnipeg #1
November 2022
Carol McElheran PGM
Queen Winnipeg #1
April 2023
Mae Lyle
Friendship #67
June 2023
50 YEAR MEMBERS
Evelyn Baudin
Opasquai #24
December 2013
Thelma McDougall
Queen Winnipeg #1
January 2014
Bernice Bertram
Queen Mary #3
May 2014
Bev Gowler
Patricia #8
September 2014
Joyce Bicknell
Patricia #8
December 2014
Monica Ostapowich
Ruth #15
June 2015
Susan Lambert
Opasquai #24
September 2015
Lauren Warrian
Friendship #67
November 2015
Joyce Harbour
Queen Winnipeg #1
November 2015
Jeanne Fell
Opasquai #24
November 2015
Marion Jenkyns
Friendship #67
February 2016
Phyllis Elliott
Queen Mary #3
December 2015
Doreen Cobbe
Electa #2
March 2016
Lynne Hagberg PGM
Queen Mary #3/Opasquai #24
June 2016
Annette Zegers
Ruth #15
June 2016
Lorna Clements
Patricia #8
August 2016
Arleen Crone
Queen Winnipeg #1
November 2016
Louise Garbutt
Patricia #8
November 2016
Elizabeth "Liz" Clarke
Queen Mary #3
November 2016
Rita Patry
Friendship #67
March 2017
Jane Deller
Friendship #67
April 2017
Heather Grove
Queen Winnipeg #1
April 2017
Monelle Oman PGM
Friendship #67
June 2017
Linda Sontag
Friendship #67
June 2017
Mardene Premachuk
Opasquai #24
October 2017
Jean Hawkins
Queen Mary #3
November 2017
Chris Porter PGM
Patricia #8
January 2018
Margaret Astle
Friendship #67
March 2018
Patricia "Pat" Shuttleworth
Electa #2
March 2018
Lois Allen
Queen Mary #3
May 2018
Gordon Allen
Queen Mary #3
May 2018
Barbara Borowski
Queen Mary #3
November 2018
Trucia Howard
Friendship #67
January 2019
Maralice Blagden PGM
Friendship #67/Ruth #15
May 2019
Jo-Anne Knox
Electa #2
September 2019
Diane James
Ruth #15
November 2019
Jean D. Young
Queen Mary #3
April 2020
Janet Finlayson PGM
Queen Mary #3
April 2020
Lorna Horner
Ruth #15
May 2020
Barbara Snaith
Ruth #15
June 2020
Beatrice Bedard
Friendship #67
June 2020
Luba Finney
Friendship #67
June 2020
Sandra Lawrence
Queen Mary #3
September 2020
Donna Brown
Ruth #15
October 2020
Marjorie Hay
Ruth #15
October 2020
Beth Kondratuk
Patricia #8
October 2020
Grace Atkison
Queen Mary #3
December 2020
Grace Craig
Opasquai #24
February 2021
Dorothy Martin
Friendship #67
May 2021
Claire McCaw
Patricia #8
June 2021
Doreen Richmond
Friendship #67
September 2021
James Finlayson PGP
Queen Mary #3
November 2021
Margaret Cove
Electa #2
November 2021
Helen Lipsey
Patricia #8
March 2022
Susan Newell
Queen Winnipeg #1
March 2022
Helen Waugh
Patricia #8
May 2022
Kathy Watson
Opasquai #24
May 2022
Cecilia Fjeldsted
Ruth #15
June 2022
Natalie Chernoff
Friendship #67
June 2022
Joanne Wain
Opasquai #24
September 2022
Myrna Lennon
Queen Mary #3
September 2022
Carol Girling PGM
Opasquai #24
November 2022
Moira Solmundson
Patricia #8
February 2023
Annetta Tennant
Queen Winnipeg #1
February 2023
Joan Goble PGM
Opasquai #24
February 2023
Milton Goble PGP
Opasquai #24
February 2023
Bea Betts
Opasquai #24
March 2023
Lois Doucelle
Opasquai #24
March 2023
Evens Premachuk
Opasquai #24
April 2023
Beverly Martin
Friendship #67
May 2023
Phyllis Dyck PGM
Patricia #8
May 2023
Marion Blagden
Friendship #67
June 2023