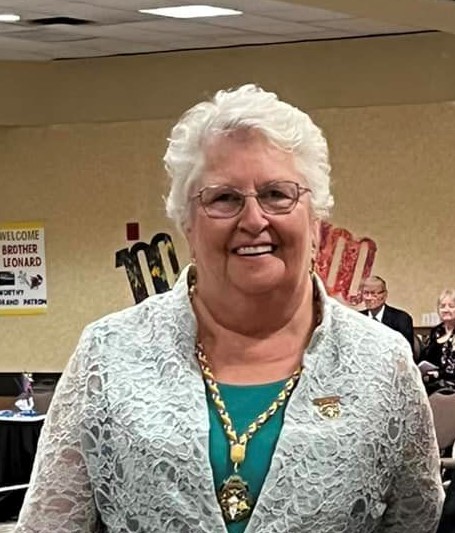 Carol Hadley Worthy Grand Matron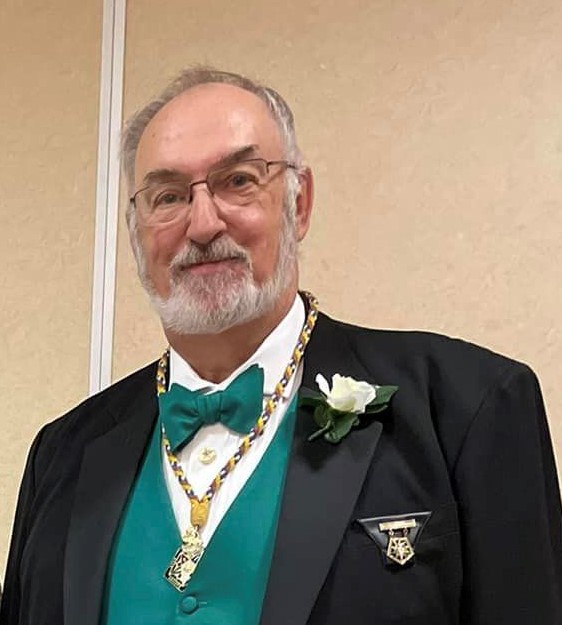 Allan Hadley, Worthy Grand Patron
Grand Officers

| Title | Name |
| --- | --- |
| Worthy Grand Matron | Carol Hadley (1) |
| Worthy Grand Patron | Allan Hadley (1) |
| Associate Grand Matron | Joyce McTaggart (3) |
| Associate Grand Patron | Ernie Cameron (3) |
| Grand Secretary | Maralice Blagden PGM (67/15) |
| Grand Treasurer | Valerie Morgan (8) |
| Grand Conductress | Patricia Shuttleworth (2) |
| Associate Grand Conductress | Rosanne Hall (1) |
| Grand Chaplain | Brian Rountree (67/24) |
| Grand Marshal | Maryet Mann (8) |
| Grand Organist | Robert McMillan PGP (2) |
| Grand Adah | Marilyn Johnson (24) |
| Grand Ruth | Ann Reid (3) |
| Grand Esther | Edith Graham (15) |
| Grand Martha | Donna Love (67) |
| Grand Electa | Marlene Simmons (1) |
| Grand Warder | * Heather McIsaac (67) |
| Grand Sentinel | Timothy McIsaac (67) |
| Grand Trustee, Chair 1 year | Sandra Ebata (67) |
| Grand Trustee 2 years | Jean Hutchison PGM (1) |
| Grand Trustee 3 years | Heather Grove (1) |
THIS YEAR'S THEMES AND PROJECTS

Session: RAINBOW DREAMS AND DRAGONFLY WISHES

Dedication: We dedicate this year to the legacy of those who have gone before,.

Scriptures

WGM: Isiah 40:31 "but those who hope in the Lord will renew their strength. They will sour on wings like eagles; they will run and not grow weary; they will walk and not be faint".
WGP: Psalm 5:3 "In the morning Lord, you hear my voice; in the morning I lay my requests before you and wait expectantly".

Aim

WGM: To see Eastern Star grow by media promotion of good deeds.
WGP : Endeavour to leave things a little better than you find them.

Watchwords

WGM: Hope, New Beginnings, Peace.
WGP: Do no harm.

Honoured Station

Secretaries. They are the first line of communication and representative of the Chapter and the hardest worker.

Colours

WGM: Green and Silver
WGP: Red, Blue and Gold

Flowers

WGM: Freesias and Sweet Peas
WGP: Roses and Carnations

Music

WGM: Music from the 50s, 60s, 70s, Diana Ross, Carpenters, Captain and Tennille
WGP: Scottish, Celtic, East Coast

Hymns

WGM: On Eagles Wings (Josh Grogan)
WGP: I Come to the Garden Alone

Fun Emblems

WGM: Dragonflies, Gnomes, Rainbows
WGP: Bagpipes, Shetland Sheep Dogs

Projects

Manitoba Eastern Star Chalet – supported by barbeques and a cash raffle
ESTARL (Eastern Star Training Awards for Religious Leadership) – supported by the offering from the 2024 Church Service
Fire Fighters Burn Fund – supported by a fund raising project
Website Maintenance – supported by in lieu of gifts

Non-Monetary Project

In lieu of corsages -Support continuing Chapter projects in their communities such as Winter Warmers, Knickers and Kickers, Linus blankets, school breakfast programs etc.